Equal/ Unequal Angle Iron Shelves
Brief Introduction
• Slotted Angle is used in a wide variety of applications including shelving,benches, trolleys and light construction work
• Slotted Angle's unique pre-punched holes allow multiple steel sections to be bolted together
• Slotted Angle Shelving is for light goods.
• The system is ideal for the manual storage of light and even relatively heavy loads.
Features & Advantages
• 120kg per level
• Size:1829mm/ 2134mm/ 2438mm/ 2843mm
• popular sizes: 914mm*305/ 381mm/ 457mm/ 610mm*0.8mm
• Closed back & sides + dividers are available on request
• Easy assembly & Installed quickly
• Economic solution for a wide range of uses.
Details for Slotted Angle Shelving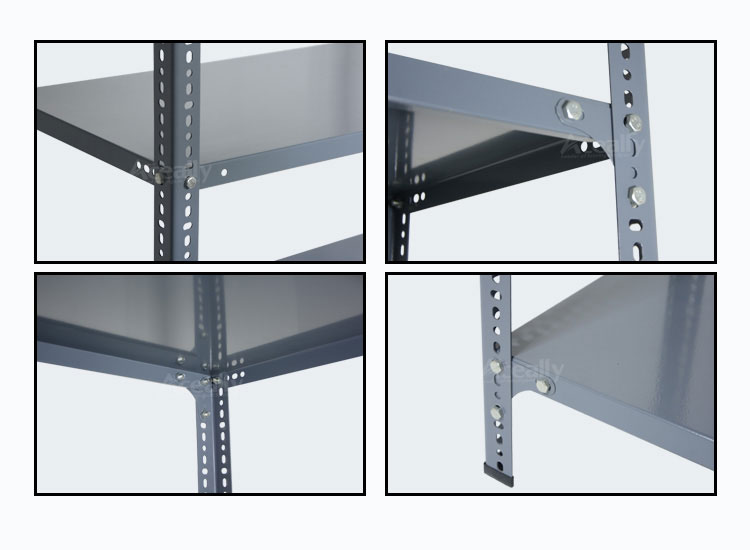 Slotted Angel Post
Size(mm)
Thickness(mm)
Length(mm)
Packing
35*35
1.5-2.0
1800/1900/2000/2100
10pcs/bundle
38*38
1.5-2.0
1800/1900/2000/2100
10pcs/bundle
40*40
1.5-2.0
1800/1900/2000/2100
10pcs/bundle
40*60
1.5-2.0
1800/1900/2000/2100
10pcs/bundle
57*38
1.5-2.0
1800/1900/2000/2100
10pcs/bundle
Steel Shelf
Size(mm)
Thickness(mm)
Height(mm)
Packing
300*900
0.6-1.0
30/40
10pcs/carton
400*900
0.6-1.0
30/40
10pcs/carton
450*900
0.6-1.0
30/40
10pcs/carton
600*900
0.6-1.0
30/40
10pcs/carton
Packaging