Light Duty Steel Slotted Angle Shelving
Brief Introduction
1) Slotted angle has been used for more than 50 years
2) The systems has become the most popular shelving systems in warehouse storage.
3) Our slotted angle shelving system is strong and easily assembled.
4) Slotted angle can be exactly to meet your needs and all installation are extremely simple.
5) No welding, painting or drilling, the angle post can be simply cut and bolted together.
Features & Advantages
1) 40mm x 40mm, 38mm x 38mm, 36mm x 36mm, 32mm x 32mm x 1.5mm slotted angle post.

2) The 36x36x1.75mm thick and 41x41x2mm thick angles post are available in standard lengths of 2134mm and 3048mm angle shelving.

3) Aceally Slotted angle shelving provided powder coated grey or galvanized metal.

4) OEM is available, we promise to reply with 12hours.
Details for Slotted Angle Shelving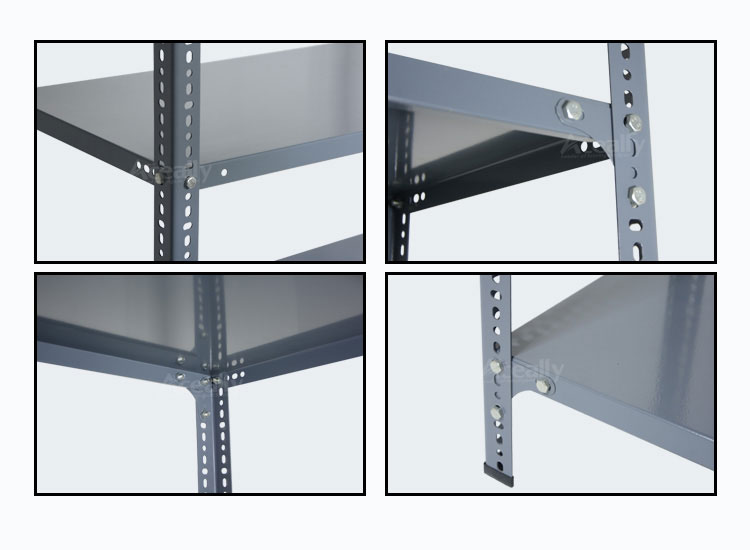 Slotted Angel Post
Size(mm)
Thickness(mm)
Length(mm)
Packing
35*35
1.5-2.0
1800/1900/2000/2100
10pcs/bundle
38*38
1.5-2.0
1800/1900/2000/2100
10pcs/bundle
40*40
1.5-2.0
1800/1900/2000/2100
10pcs/bundle
40*60
1.5-2.0
1800/1900/2000/2100
10pcs/bundle
57*38
1.5-2.0
1800/1900/2000/2100
10pcs/bundle
Steel Shelf
Size(mm)
Thickness(mm)
Height(mm)
Packing
300*900
0.6-1.0
30/40
10pcs/carton
400*900
0.6-1.0
30/40
10pcs/carton
450*900
0.6-1.0
30/40
10pcs/carton
600*900
0.6-1.0
30/40
10pcs/carton
Packaging