Heavy Duty Standard Metal Chrome Wire Shelving
This easy-to-assemble 4/6-Shelf Decorative Wire Chrome Finish Commercial Shelving Unit from ACEALLY provides storage space for any room and purpose including commercial, industrial and residential use. The 4/6-tier shelving unit is made of tubular steel and wires coated with a durable chrome finish. All shelf heights are easily adjustable and the unit can be assembled without any tools. for optimal use in kitchens, pantries, utility rooms, warehouses and garages.
Product features:
* Heavy duty shelf structure with high quality chrome finish
* Freely adding on shelves and adjusting each shelf's height at will
* Easy to assemble and dismantle, no tools required
* Use for everywhere of your home warehouse, saving much space for your room
* Many sizes of wire shelves are available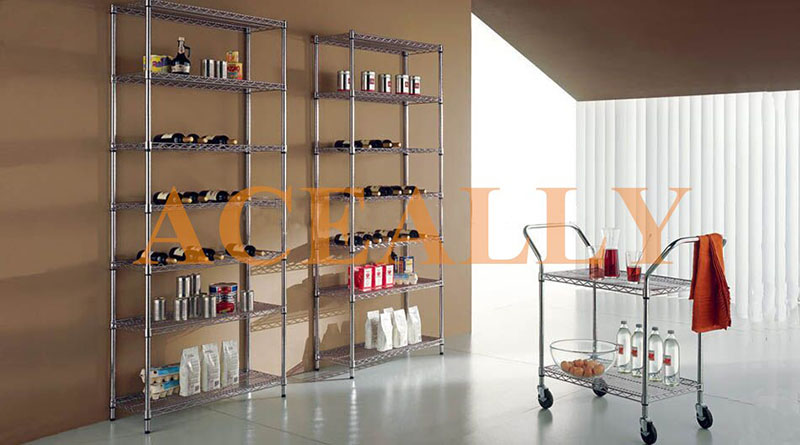 Available shelves wire diameter :
5.0/3.5/3.0mm
5.8/4.0/3.2mm
6.0/4.5/4.0mm
Customized dimensions is acceptable. For examples 5.7/4.3/3.4mm.
Available Posts as follows: ( Dia.25.4x1.4mmt)
18"
24"
30"
32"
36"
54"
63"
66"
71"
74"
78"
86"
96"
Loading Capacity is 800LBS ( 360kgs ) per Shelf
14"x24"
18"x24"
21"x24"
24"x24"
14"x30"
18"x30"
21"x30"
24"x30"
14"x36"
18"x36"
21"x36"
24"x36"
30"x36"
36"x36"
14"x42"
18"x42"
21"x42"
24"x42"
14"x48"
18"x48"
21"x48"
24"x48"
30"x48"
36"x48"
14"x54"
18"x54"
21"x54"
24"x54"
14"x60"
18"x60"
21"x60"
24"x60"
30"x60"
36"x60"
14"x72"
18"x72"
21"x72"
24"x72"
30"x72"
36"x72"
Available Surface Finish as follows:

1.Chrome plated
2.Powder/epoxy coating
3.Zinc plated covered by powder coating
4.Stainless steel 201
5.Stainless steel 304