Purchasing pallet rack for most companies of course, is not a regular thing like other purchase movement; Buying clothes, dressing and other stuff, the customer knew exactly about what they need. But for most buyers will not have any experienced in the
pallet racking design
and purchasing process. Then where does the potential customer start?
Some reports on the shelving and racking markets shows that about 300 companies on this filed within the China and with the internet comes up most of these suppliers do not offer a worldwide service. It is not easy for the newest buyer to go through this minefield.
From the beginning many would ask: what's the different between the new pallet rack and the used one? Here are some references.
1)Delivery time.
Normally the used pallet racking has a stock to delivery the goods more faster than the new one.
2)Quality.
The new pallet racking has a better quality than the used one. When you buy a new pallet racking from ACEALLY, usually we'll offering rack protection to every upright. Without a protector to every upright, it can be hit by a forktruck, might be cause any incidents.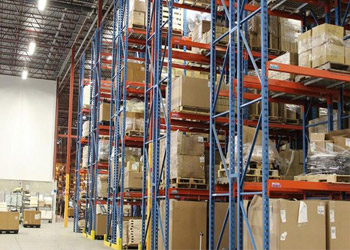 3)Purchase price.
In general situation these is a saved on the purchase price. But everything comes up two sides, they don't know about the quality. The actions of the manufacturer in this situation above really highlights the issue and it doesn't matter whether the pallet racking is new or used. It is down to the quality systems and the reputable nature of the supplier. If a product either new or used is no fit for purpose warehouse it is very important that the supplier puts the right things as soon as possible.
So now we see its better choose the new pallet racking than the used one, for the low budget warehouse, we now offering 8-15% discount,
inquiry us
for more details.