1. Cantilever rack is a type of side-open rack, which is characterized in that it can store long materials, round materials and irregular goods on both sides of the shelf, and can be both mechanized operations and manual access.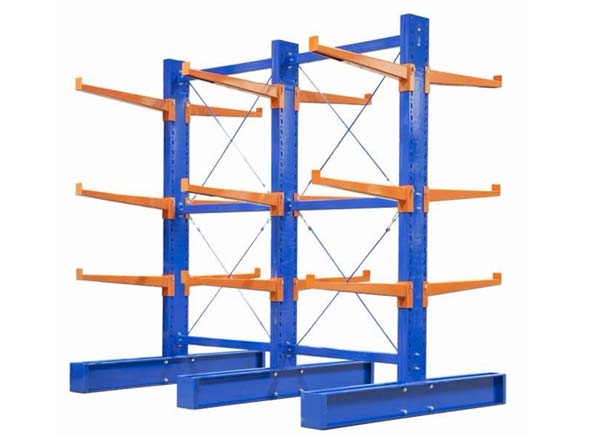 2. The column is composed of a column and a base, which can be welded and bolted. All the materials of the column are made of high-quality cold-rolled steel, which has greater strength, better rigidity and heavier load capacity, so as to enhance the stability of the rack.
3. Connectors are welded on the cantilever arms to ensure sufficient bearing strength. The cantilever arm and the column are connected by bolts or plate pins. The cantilever can be adjusted at any pitch at the height position, which is convenient to install, convenient to adjust and safe to use.
4. The cantilever arm has a certain upward tilt angle (within 5 °) to ensure that the stored goods will not fall easily. The end of the cantilever arm is also equipped with a stop pins, which ensures the safety of the goods.
5. Horizontal and diagonal crossing are installed between the columns, which are connected to the column by bolts, so as to enhance the stability of the rack.
The Cantilever rack is composed of
1. Column( post, base: 200*60/300*90)
2. Cantilever arm
3. Horizontal crossing(30*30 tube)
4. Diagonal crossing(#4 slotted angle)
5. Accessories Notice: The loading capacity of cantilever type rack is different from beam type racks, and the loading capacity of cantilever rack is determined by the loading capacity per each arm.