The usage of Radio Shuttle Car
Radio Shuttle Racking
is made of the VNA(Very-narrow-aisle) racking and combine with
Radio Shuttle Car
to achieve high-density semi-automatic storage. According to the cargo access port layout, the
Radio Shuttle Racking
can be divided into First-in First-Out (FIFO) and the Last-In First-Out (LIFO). The following introduction is the advantages and disadvantages of two operating methods:
1. First In First Out mode (FIFO):
Deposited from one end of the pallet, picked from the other end of the roadway to achieve First-in First-Out.
Advantage: Can achieve the sequential access, comfrom with the general logistics requirements, can achieve logistics access zoning operations, optimizing on-site management.
Disadvantages: Both ends of the racking need to be equipped with forklift access, dynamic storage usage is lower than the LIFO.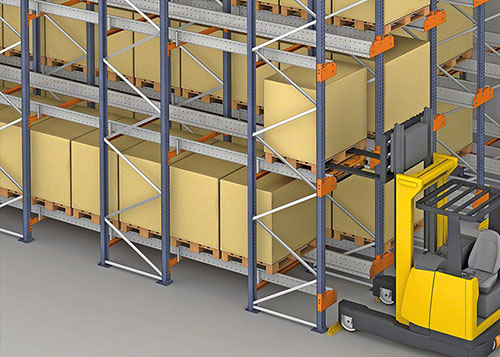 Forklift access

2. Last-In First-Out mode (LIFO):
Forklift access is arranged on only one side of the racking and the cargo is accessed only on one side of the lane.
Advantage: Only arranged on one side of the channel, you can maximize the use of storage area, more suitable for the general order of the material out of the order of occasions.
Disadvantages: Can not achieve the sequential access requirements of cargo.